From Our Soundbooth |
June 16, 2016
2016 Audio Contest Winner in Poetry: Marcus Wicker
This week on the Missouri Review Soundbooth Podcast we are excited to feature our next winner of the 2016 Miller Audio Prize Contest.  The winning poetry submission was Marcus Wicker's "Watch us Elocute," originally published in Boston Review.

Marcus Wicker is the author of Maybe the Saddest Thing (Harper Perennial), a National Poetry Series winner. His awards include a Ruth Lilly Fellowship, Pushcart Prize, as well as fellowships from Cave Canem and The Fine Arts Work Center. Wicker's work has appeared or is forthcoming in The Nation, Poetry, American Poetry Review, Oxford American, and Boston Review, among other magazines. He currently serves as poetry editor of Southern Indiana Review. You can find out more at marcuswicker.com.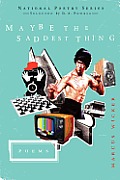 In the coming weeks we'll be featuring our other winners and runners up.  And don't forget about our fall Contest, the Jeffrey E. Smith Editor's Prize, with winners in the categories of poetry, fiction, and nonfiction each receiving an award of $5,000!
We hope you enjoy our winner in the poetry category, "Watch us Elocute" by Marcus Wicker!