From Our Soundbooth |
May 12, 2016
Celebrating Short Story Month: Jamaica Kincaid's "Girl"
May is National Short Story Month, and here at The Missouri Review we love our short stories. That's why we are thrilled to bring you a series of podcasts featuring our very own interns as they discuss their favorite short stories of all time.  You can find more about National Short Story Month here, and be sure to check back next Thursday to hear the next installment in the series!
In this podcast, we discuss Jamaica Kincaid's "Girl." This was Kincaid's first short story ever published (1978). Kincaid has published many short stories, novels, and essays, many of which center around family relationships and her native Antigua.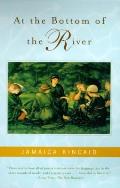 Tune in to hear us talk about flash fiction versus prose poetry, the feminine danger of being a spectacle, how to smile when you don't mean it, and more!
Podcast conducted by Jennifer McCauley and Leanna Petronella.
Did you know that you can now download The Missouri Review to your smartphone or tablet? Search for The Missouri Review in your app store. If you are already a digital subscriber, just sign in to the app with the e-mail address associated with your account.