From Our Soundbooth |
May 19, 2016
Celebrating Short Story Month: Seth Fried's "The Siege"
May is National Short Story Month, and here at The Missouri Review we love our short stories. That's why we are thrilled to bring you a series of podcasts featuring our very own interns as they discuss their favorite short stories of all time. You can find more about National Short Story Month here, and be sure to check back next Thursday to hear the next installment in the series!
In this podcast, TMR intern Kevin discusses Seth Fried's "The Siege."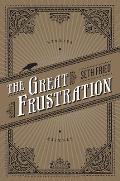 The Siege was first published in The Missouri Review issue 29.4 (Winter 2006) and is available to read online for free!  Tune in to hear Kevin's riveting discussion of Fried's use of the second-person plural, and the existential questions that Fried's story raises.
Podcast conducted by Kevin Henderson.
Did you know that you can now download The Missouri Review to your smartphone or tablet? Search for The Missouri Review in your app store. If you are already a digital subscriber, just sign in to the app with the e-mail address associated with your account.
[soundcloud url="https://api.soundcloud.com/tracks/264729910″ params="color=ff5500&auto_play=false&hide_related=false&show_comments=true&show_user=true&show_reposts=false" width="100%" height="166″ iframe="true" /]