Dispatches |
December 11, 2013
Favorite Poetry Books of 2013
As we draw closer to the darkest night of the year, I urge you to allow these stunning new books to shine out truth and amazingness and to bedazzle your literary world. In no particular order, here are my picks for the top five poetry books of 2013: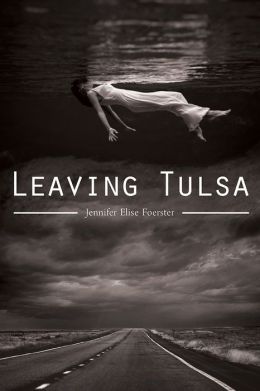 1. Leaving Tulsa by Jennifer Elise Foerster, The University of Arizona Press
Part coming-of-age story, part road elegy, part history, part magic, Leaving Tulsa scorches the boundaries of time, place, and self as the speaker both explores and challenges her Muscogee and European heritage within a contested America. Maps, desert, turtle shells, ghosts, clay, gasoline. A country where everyone leaves, yet everyone stays. In the poem "Flight," Foerster writes:
As a child I tossed
all my imaginary friends
out the window of a fast moving train
because I wanted to feel my fist
break open as I freed them,
as each of their bodies
whipped against the sliding,
their insides: snow
dispersing into the wind,
their little heads rolling
across the yellow plains.
Because I believed they would return.
But none have since.
Not even the ones I didn't love.
When the speaker is sent "to the curbside/ up the hill from her ghosts," you too will clutch your bouquet of plastic roses, and you too will wait. Read an interview with Foerster here.
2. Vow by Rebecca Hazelton, Cleveland State University Poetry Center
I read this book on the plane back from Boston AWP, and even through my Greek tragedy-level dehydration and exhaustion, I still could not put it down. Alan Michael Parker describes Hazelton's voice as "brainy, half-feral, sad, and sensuous," and I would add to that sharp, sassy, and strangely beautiful. Vow tells a treacherous story of love gone wrong in a landscape of claws, teeth, and snagged fur, where the past "becomes a jaguar throw/ wrapped around/ your bare shoulders" and the speaker "just can't tell/ whether it's the space beyond/ that destroys me, or the ground/ I walk along, all I own in the world on my back, singing." And yet, this same speaker remains hyper-aware of her reality when she confesses in the book's first poem, "Book of Memory":
[…] If they say that's how I was,
that's how I was. I have no words for the one in the mirror
who apes me every morning. She's not the one I remember
imagining as a young girl.
This book is a mind-trip and a rabbit hole into a world where suddenly everything seems larger-than-life and wild. After all, "No one thinks/ they are in a tragedy until they notice where the laughter should be." You can read more about Rebecca Hazelton and Vow here.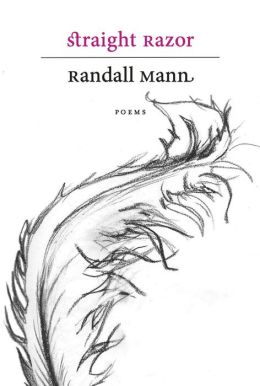 3. Straight Razor by Randall Mann, Persea Books
Nothing speaks to the fierce and gentle nature of Randall Mann's third collection better than his title poem, "Straight Razor":
He slid the stiff blade up to my ear:
Oh, fear,
this should have been thirst, a cheapening act.
But I lacked,
as usual, the crucial disbelief. Sticky, cold,
a billfold
wet in my mouth, wrists bound by his belt,
I felt
like the boy in a briny night pool, he who found
the drowned
body, yet still somehow swam with an unknown joy.
That boy.
Always teetering on the edge between tenderness and violence, love and fear, damage and healing, Straight Razor plunges us into the unflinching worlds of the San Francisco gay scene, the "empire of moss" in central Florida, and the childhood school traumas where "You write I will not touch him/ one hundred times./ She watches like a shopgirl/ who was never a girl." Mann's lyrical precision, five years in the making and exact as a knife, perfectly mirrors the speaker's sense of control even as the poems' content rubs us raw. Reading this book, you will both rejoice and cringe, laugh and gasp, sweat and shiver.
4. Bangalore by Kerry James Evans, Copper Canyon Press
One of the hottest new poetry books of the year, and one of the most anticipated (on my end, at least!), Evans' debut collection that chronicles an ex-soldier living in the Deep South has already been reviewed by The Rumpus and The New York Times and has been named one of the top five poetry picks for 2013 by Hannah Gamble at The Poetry Foundation. A big, bright, heart-blister of a book, Bangalore has blazed onto the poetry book scene. Buy it immediately. Savor it. Love it deeply. Over at Ostrich Review, Brandi Nicole Martin sums it up flawlessly in fifty words:
"'It's time somebody did it right,' says Evans—and he does. Bangalore is part torpedo, part pitcher of Miller Lite. 'Lilacs and Razor Wire.' Army National Guard. Just outside of Montgomery. These poems are elegiac, honest, vulnerable. Fierce as the Deep South.
Bangalore is some serious shit. Don't miss it."
Here, here.
5. To See the Queen by Allison Seay, Persea Books
Quietly haunting, gorgeous, fine-tuned, and devastating, Seay's first collection of poems is the kind that won't shake from you. Once you become vulnerable to it, this book will stay with you for days. As Claudia Emerson reviews, "The rooms and towns that make up this volume's landscape reflect an ordering of pain, the aftermath of emotional trauma, and contain quintessential expressions of despair, which Seay makes entrancing and beautiful." Here, Seay personifies sadness as a ghost-like figure named Liliana, whose presence is at once kind and comforting as well as mysterious and disturbing. My favorite poem of the collection is "Time of Need," which took my breath away:
In the road, a dog. Days dead,
that dog. Liliana was walking beside me awhile
(I am sure) and I was almost not crying but then found
what I was looking for.
She heaved it for me—all of it, the stench, the weight—
in her thin arms until it was too much.
Tired, she dragged the thing by its wasted paws
all the way home. Her dress was stained. This is how
I learned about love. She did not mind at all
the silent, steady distance I placed between us.
To See the Queen has a weight, a depth, and a "wild green heart." You can read more about Seay and this book here and here.
Happy New Year to all, and Happy New Poetry!