Dispatches |
June 27, 2016
Summer Reading: Bad Seeds, Opioids, Hope
Today, the Missouri Review presents the second installment of Summer Reading, a series designed to provide recommendations for summer reads from authors and Missouri Review staff members.  This installment is written by Kate McIntyre, Managing Editor of the Missouri Review.
I came to the job of managing editor at the Missouri Review from a visiting professor position where summer reading meant two or three books a week, consumed one after another after another, a reading feast after the famine of the busy term. Those summers were perfect for series: all the Patrick Melrose, all the Neapolitan Novels, every Muriel Spark (I recommend all Spark except the essay collection and her strangely close-lipped autobiography).
Now that I work more consistently, though, my reading pace has slowed and my appetite has broadened: I don't want too much of any one thing. I'm finishing Dreamland The True Tale of Americas Opiate Epidemic, Sam Quinones's exploration of the ways in which prescription opioid abuse and heroin abuse have grown in concert, facilitated by drug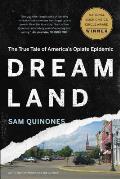 company advertising and a dearth of research into opioid addiction. For a long time, the conventional wisdom was that opioid painkillers weren't addictive, and this idea was founded on the thinnest of evidence– a short letter to a medical journal that through wishful thinking grew to the status of an important, authoritative study that guided prescription practice for years. The most remarkable figures in the story are the young men from Nayarit, a very small state in Mexico, who travel north to sell heroin. Mostly sons of farmers, they are known for their politeness and good customer service, and none of the addicts and former addicts Quinones spoke to had a bad word to say about them.
Before Dreamland I read Scarlet Thomas's The Seed Collectors, which I learned about via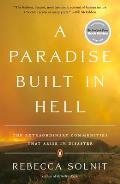 The Millions here. Thomas has been billed as a latter-day Spark or Murdoch, but I seemore of a Bulgakov-David-Mitchell hybrid. But funnier and more profane.
When I finish Dreamland, I plan to pick up Rebecca Solnit's Paradise Built in Hell The Extraordinary Communities that Arise in Disaster, which will be a pleasure for me, as is all  Solnit, but also, I hope, inspiring for my collaborative novel project. Solnit argues that humans are capable of great kindness and altruism in the wake of a disaster. I'm very willing to be convinced.
Kate McIntyre is the managing editor of the Missouri Review. Her stories and essays have appeared recently in journals including Denver Quarterly, the Cimarron Review, and Copper Nickel, and she had a Notable Essay in the Best American anthology.